Smoky, smooth, and slightly fruity. Cherry is known for its versatility and ability to pair with any meat or veggie, so it was an obvious choice when we began experimenting with fruit wood smoked salt. To create our cherry smoked salt, we smoked unrefined, ancient Real Salt (aka "Nature's First Sea Salt
®
") with cherry wood and alderwood for 30 hours until it developed a robust, smoky flavor with the perfect touch of sweetness.
Wood x Fire x Salt
That's right, it's just wood, blue smoke, and slow smoking that does the trick!
What makes it unique?
Real Salt - Our unrefined, ancient sea salt is a healthier option than the processed salt used in other smoked salts. It doesn't contain any additives and hasn't been stripped of beneficial minerals.
An All-Wood Smoking Process - We only use wood during our smoking process. That's much cleaner and healthier than using wood and a fuel source like gas to keep the fire going like some other brands do.
Sustainably Sourced Wood - Any trees that are removed for smoking are replaced for future regrowth, so the process is sustainable.
What are the benefits of smoked real salt?
Smoked salt is a simple way to add a bold, smoky flavor to practically any dish. You can use it to:
-Add an instant BBQ flavor to dishes without grilling.
-Make healthy snacks like salads, fresh veggies, and even fruit more exciting.
-Spice up everyday foods like grilled cheese, soup, and eggs.
-Create smoky sauces and marinades.
-Make a smoky, flavorful meat rub.
-Garnish cocktails (like a margarita or bloody mary) in a more creative way.
What process is used to smoke Smoked Redmond Real Salt?
Smoked Real salt Flavors
Hickory: Smoked with hickory wood for 30 hours, it has a strong smoky flavor that's a little sweet and a little savory.
Cherry: Smoked with cherry wood for 30 hours, it's smoky, smooth, and slightly fruity.
Chef's Blend: Smoked using 5 different types of wood for 42 hours, it's darker in color and more robust in flavor with hints of espresso and cocoa.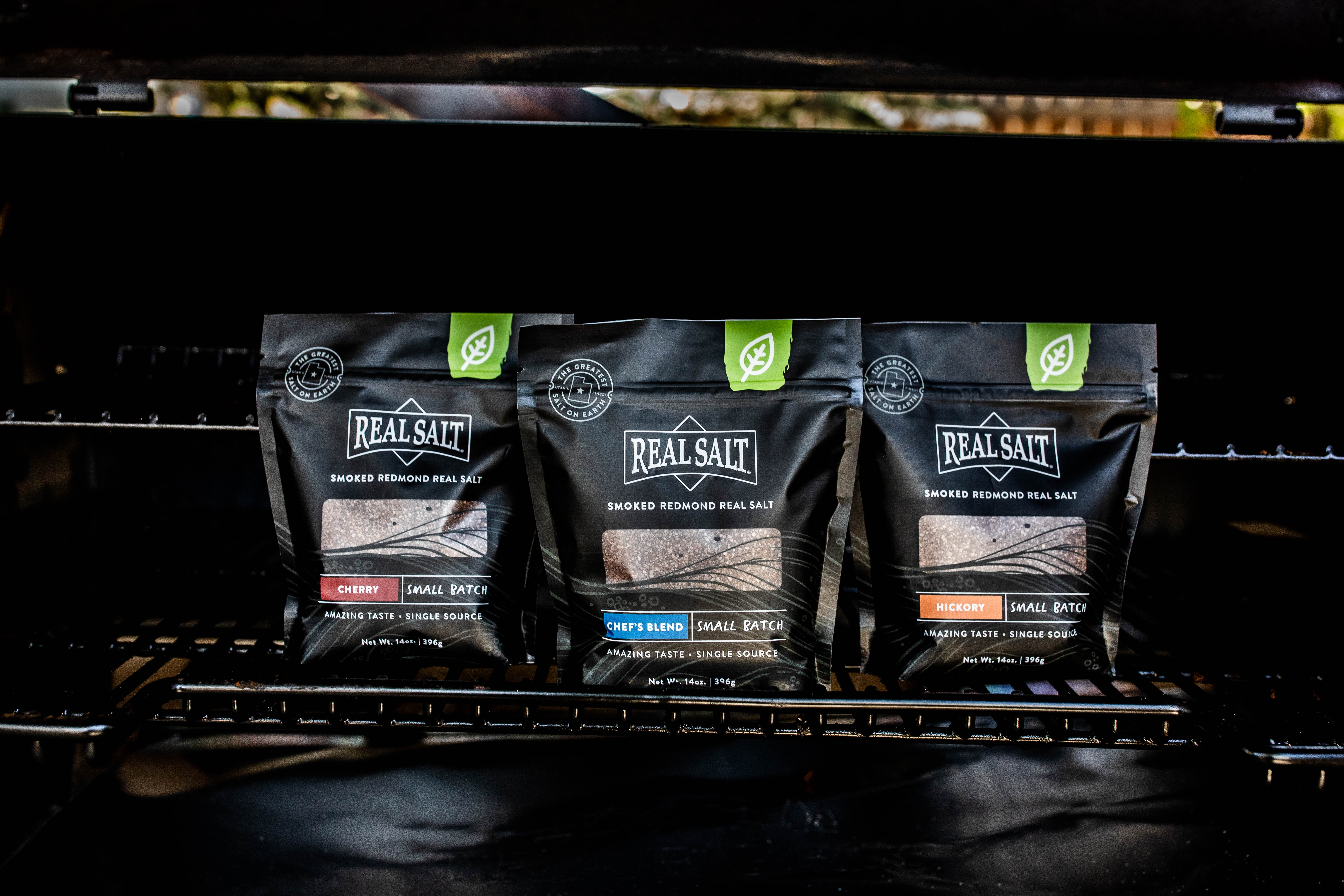 Key Ingredients
Smoked ancient sea salt (Redmond Real Salt)