Meet revolutionary Liquid Trophy Rock—a potent liquid deer attractant to attract, hold, and harvest elusive bucks. Set up an instant mineral site during spring and summer antler growth, use it as a powerful long-range attractant, or top it over Trophy Rock as a lightning-fast site activator.
DUAL THREAT
Liquid Trophy Rock is a versatile weapon in your hunting arsenal. Use it to create an instant new deer mineral site or quickly activate an existing one.
HELPS DEER GROW
Support deer rack growth and optimum health with 60+ mined trace minerals included in Liquid Trophy Rock. It's an all-natural attractant you can feel good about giving the herd.
GRAB 'N GO
Head into the woods with less bulk and more ability. Liquid Trophy Rock pouch is easy to pack in and pour out for fast, effective results.
DEER MINERAL ATTRACTANT
Irresistible sweet-n-salty flavor and potent molasses scent pull bucks from afar and keeps them coming back.
STEALTHY SITE
Works undercover as a discreet deer attractant liquid and mineral supplement that incorporates into the soil.
Compare Top Liquid Deer Minerals
How to use Liquid Trophy Rock
Select a mineral site and follow these steps to get the most out of your liquid deer minerals:
1. Fill the pouch with water to a desired amount.
2. Clear debris from your site.
3. Shake product vigorously for 20 seconds immediately before use.
4. Pour over a 2x2-foot area of soil or on top of an existing mineral site.
5. Refresh site up to 2-3 times a month or as desired.
Rock Your Mineral Site
While all Trophy Rock products are superstars on their own, combining them also produces great results. Follow Redmond's easy three-step program to create a complete mineral site for year-round nutrition and attraction.
1. Pour out Trophy Rock Four65 granular minerals on the ground.
2. Add a Trophy Rock/Block above on a stump or another large rock.
3. Top off your Rock/Block with Liquid Trophy Rock to activate the site.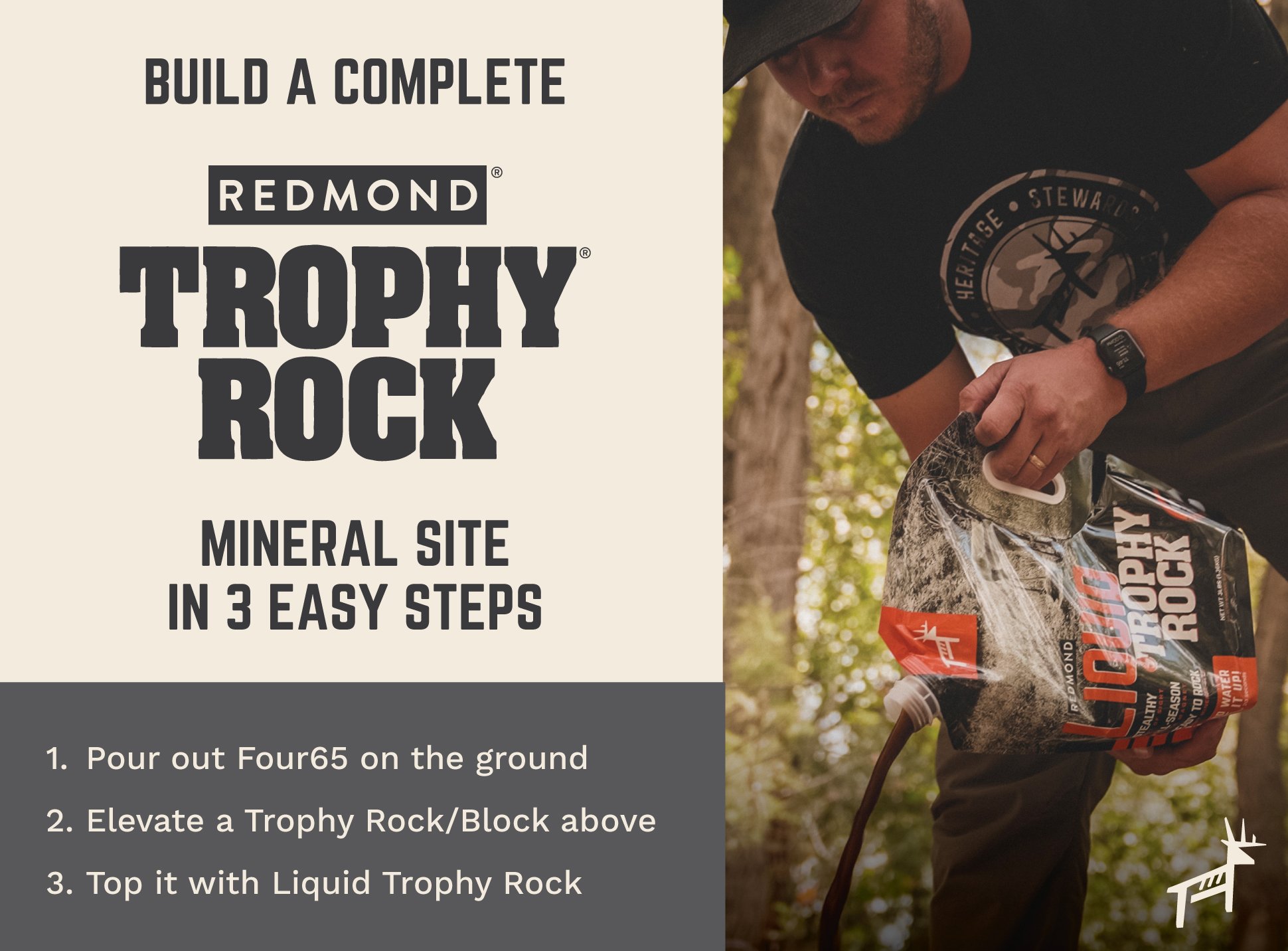 Key Ingredients
Moisture, Unrefined Salt, Molasses products, Roughage products, Montmorillonite clay
| | | |
| --- | --- | --- |
| Guaranteed Analysis | Min | Max |
| Sodium Chloride (%) | 91 | 96 |
| Calcium (%) | .35 | .85 |
| Copper (PPM) | 3 | |
| Iodine (PPM) | 10 | |
| Iron (PPM) | 300 | |
| Magnesium (%) | .06 | |
| Manganese (PPM) | 5 | |
| Phosphorus (%) | .02 | |
| Potassium (%) | .03 | |
| Sulfur (%) | .07 | |
| Zinc (PPM) | 3 | |
Mined in the usa
The deer minerals in Liquid Trophy Rock aren't manufactured. They are mined in Utah, USA from an ancient salt deposit dating back to the Jurassic era. This incredible deposit is geologically unique and serves as the foundation for all our deer mineral supplements.
HOW TROPHY ROCK WAS MADE