We developed Redmond Re-Lyte Hydration with a team of healthcare and fitness experts determined to create an effective, refreshing hydration mix you can feel good about drinking daily. Designed to support any and every lifestyle, this sugar-free blend of Redmond Real Salt and essential electrolytes contains everything you need to hydrate better, so you feel better.
Zero calories

Mixes easily

Optimal electrolyte ratio

Delicious taste
Why did the serving size of Re-Lyte change?
Delicious without any Junk
Re-Lyte Hydration has a subtle, salty-sweet flavor that makes it unique and incredibly delicious. It doesn't contain any sugar, artificial sweeteners, artificial flavors, or junk ingredients, so you can feel good about making it a regular part of your clean lifestyle.
Fasting friendly electrolytes
Unflavored Re-Lyte Hydration has all the electrolytes your body needs to fend off fasting headaches or the keto flu— and with zero calories, it won't break your fast. Mix it with cold water and drink up, so you feel energized and awesome during your next intermittent or multi-day fast.
Why calcium carbonate?
Calcium carbonate makes Re-Lyte easier to mix and calorie-free. Because it's combined with citric acid, taking calcium carbonate in Re-Lyte isn't the same as taking it by itself.
More on Calcium Carbonate
Where is Re-Lyte made?
Like all Redmond products, Re-Lyte Hydration is produced in world-class clean room facilities in the United States. The facility that produces Re-Lyte Hydration regularly exceeds the standards for certification. You can view the relevant production licenses and certificates online.
What does the Ancient sea salt do?
One of the most important ingredients in all our Re-Lyte varieties is our unrefined, ancient sea salt, Real Salt. We included Real Salt in Re-Lyte because it's a healthy, natural source of electrolytes, especially sodium and chloride.
How are the Re-Lyte mixes different?
Re-Lyte Hydration is designed to be your go-to source of everyday hydration and contains the most electrolytes. Re-Lyte Immunity, Pre-Workout, and Boost contain electrolytes along with additional nutrients and herbs to support healthy immunity, workout stamina, and everyday energy.
FAQs on Re-Lyte Hydration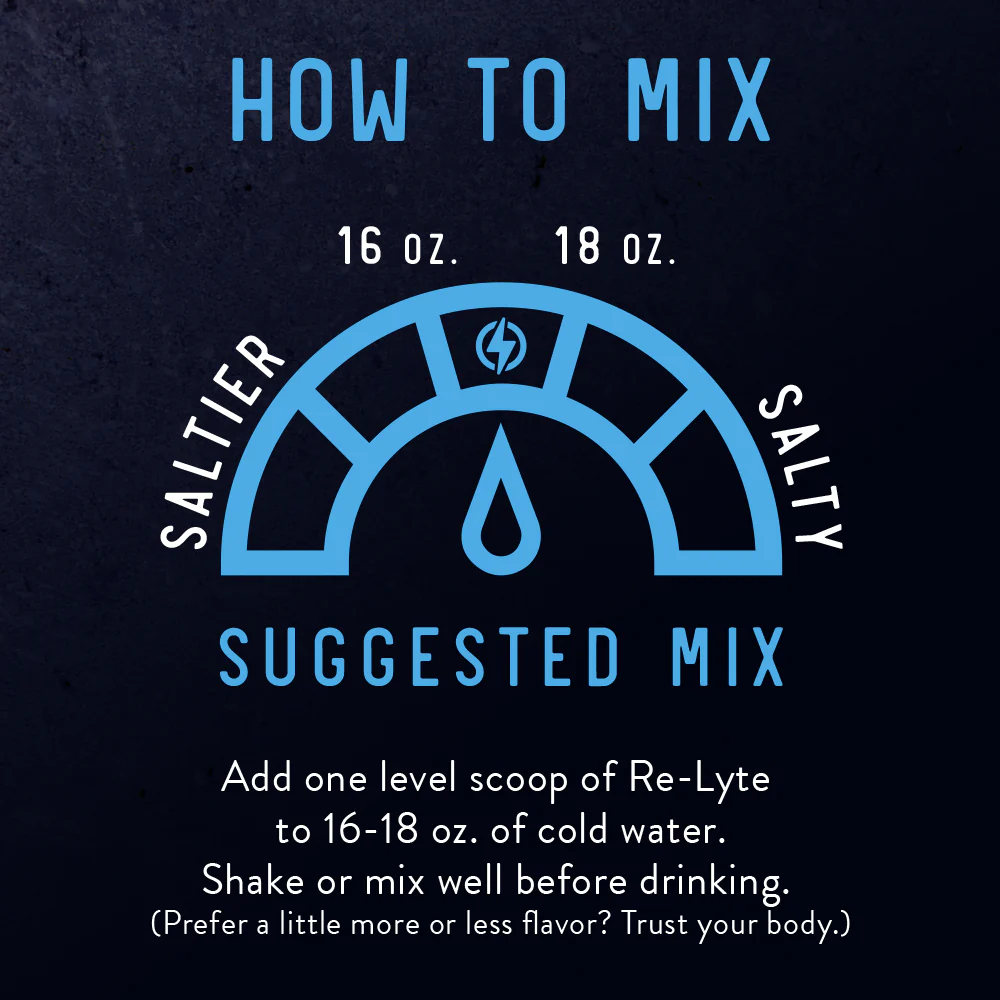 KEY INGREDIENTS
Ancient sea salt (Redmond Real Salt), GMO-free citric acid, natural flavors, rebaudioside A (stevia leaf extract). CONTAINS COCONUT.