Minerals for Deer

Trophy Rock is an all natural attractant that provides deer 60+ trace minerals needed for optimum health. Deer love and lick our mineral rocks year-round! Use it to attract, inventory, and scout out your herd. With Trophy Rock, your deer receive the minerals they need, and you'll get healthier herds and bigger bucks.
KEEP DEER COMING BACK
Deer love Trophy Rock mineral licks. They return to it again and again, giving you the satisfaction of watching them grow.
ALL-NATURAL MINERALS
Other big game attractants use chemicals; however, Trophy Rock for deer is an all-natural deer attractant that you can feel good about giving the herd.
HELP DEER GROW
Without sufficient minerals, deer cannot reach their maximum potential. With Trophy Rock all-natural minerals, deer have the nutrients they need.
LASTS LONGER THAN BLOCK
Our mineral rock lasts longer in the field than competitors, giving you more bang for your buck.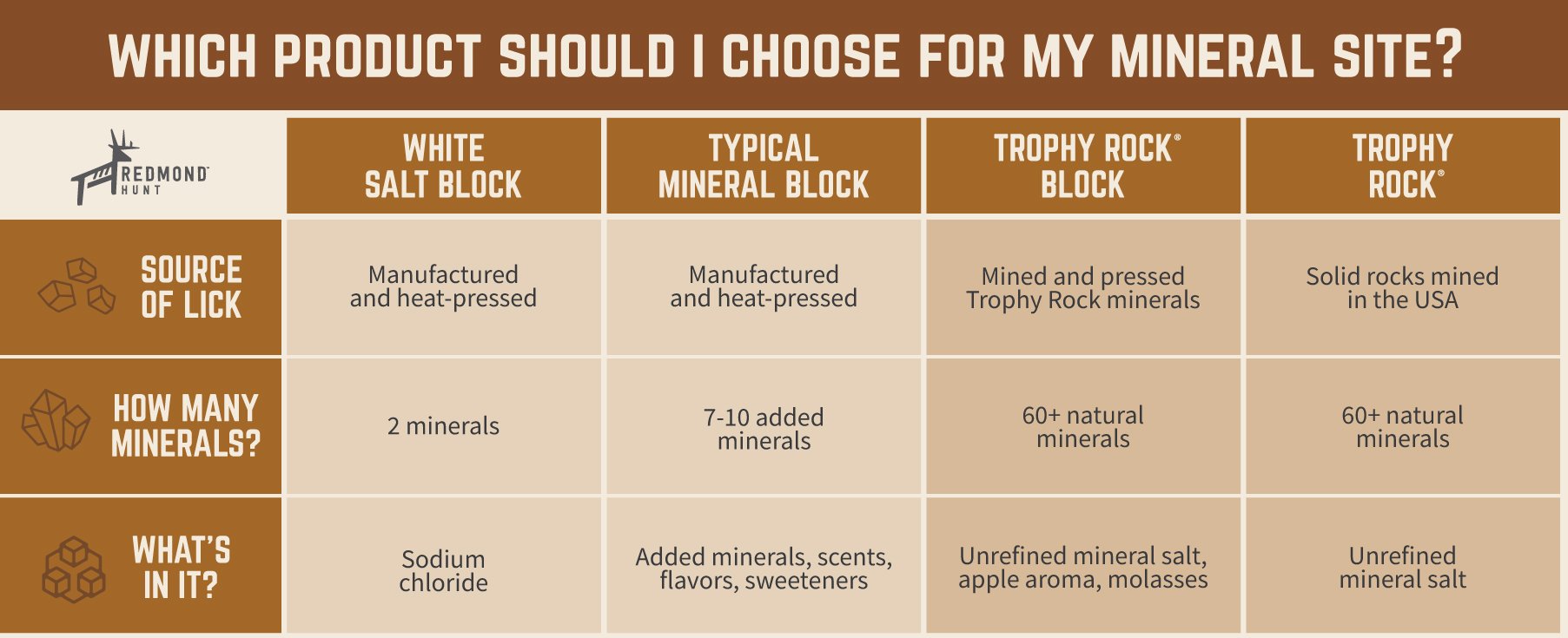 TRAIL CAM COMPANION
Get the best trail cam shots using rocks and minerals from Trophy Rock as deer attractant.
MINED IN THE USA
Trophy Rock is mined in Utah, USA from an ancient salt deposit dating back to the Jurassic era. Your purchase supports American jobs and the American economy.
How to Use Trophy Rock
Place trophy rock in transition areas or near bedding areas and field edges. Also ensure a water source is close by for best results.
Once you select a location, follow these steps to get the most out of your Rock:
1. Place it on a stand, stump, or larger flat rock. This keeps it off the ground and allows deer to lick it in a less-defensive posture
2. Avoid puddles to keep your rock from dissolving more quickly.
3. Replace Trophy Rock when it's about the size of a softball.
Use Trophy Rock to help build herd habits, track movement, and manage herds.
what to expect using trophy rock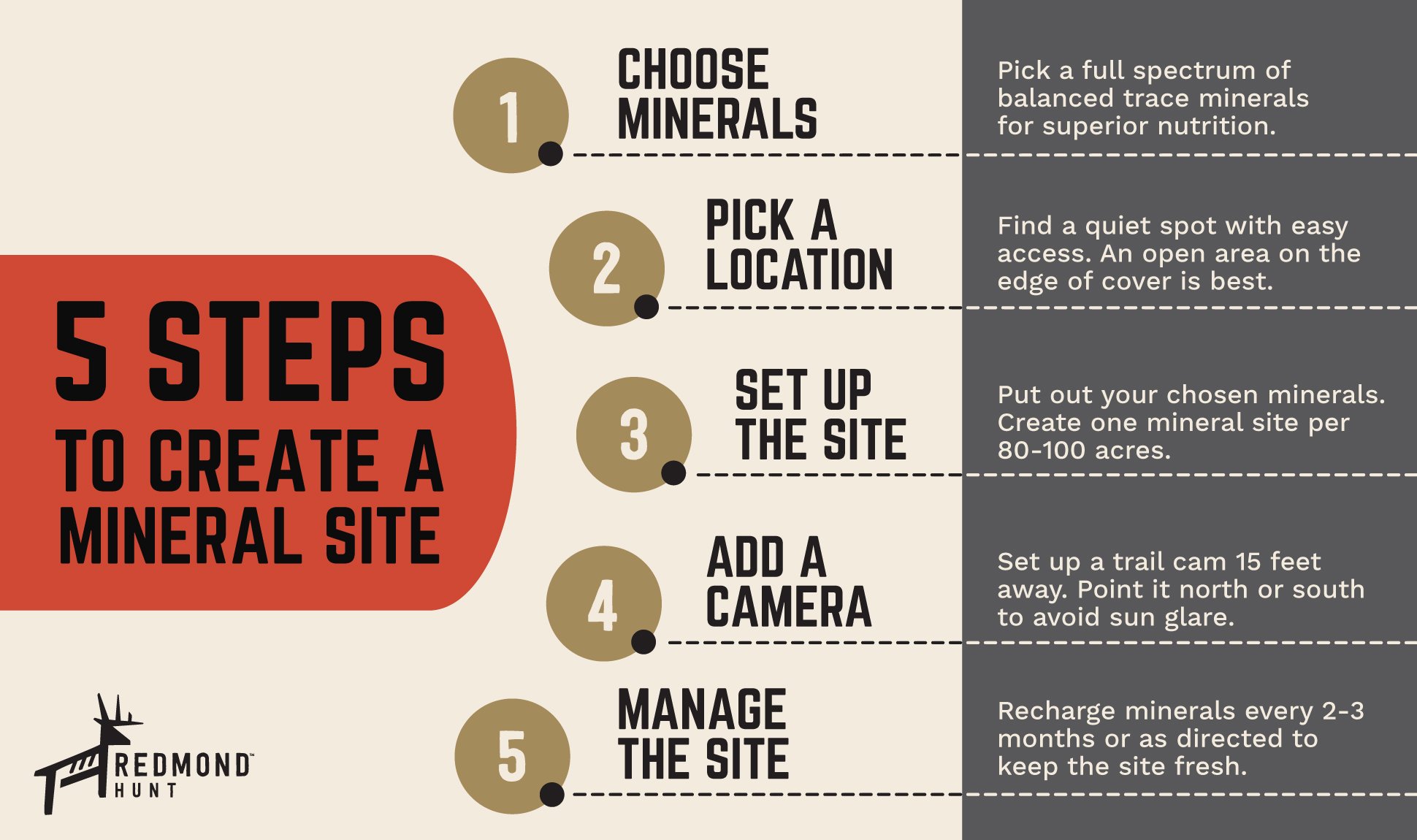 WHY BUY REDMOND TROPHY ROCK WHEN REGULAR SALT BLOCKS FROM THE FEED STORE WORK GREAT TOO?
Not all salt is created equal! Most white salt and deer mineral blocks have undergone chemical processing and typically include only two to seven minerals. Redmond Trophy Rock has not been processed or refined and naturally contains 60+ beneficial macro and micro trace minerals. Deer prefer its natural flavor over other salts and minerals, and it weathers much better than man-made pressed blocks.
How do deer find Trophy Rock?
Deer can actually smell it from quite a few yards away! It actually smells like the ocean especially when in contact with moisture from the dew or rains.
How long does a rock last and what is happening when some of my rocks disappear in only two weeks?
Rock longevity will vary depending on deer use, setup, and weather conditions. Generally, an elevated 12-lb Trophy Rock will last 4-6 weeks in the East and 8-10 weeks in the West. If it's sitting in a puddle of rainwater on the ground, it can dissolve in a matter of days. Keep in mind, if that occurs, not all is lost! All of the minerals are still there incorporated into the soil for deer to use.
Why did deer quit using my rock after they stripped their velvet?
Two things are happening during August to September when bucks go to a hard horn. One, bucks have quit pulling minerals from their skeletal system to grow antlers and don't require as much mineral supplementation. Two, the potassium-rich browse from spring and summer is drying out and deer need less sodium to balance potassium. This doesn't mean, however, that deer will not use Trophy Rock at all outside of the velvet window; we often see them licking rocks after the rut.
IS TROPHY ROCK JUST SALT? I'M TOLD IT DOESN'T HAVE ENOUGH CALCIUM AND PHOSPHOROUS TO BE A GOOD MINERAL SUPPLEMENT. IS THAT TRUE?
Salt (sodium chloride) is a critical macro mineral in a deer's body—so much so they have a taste receptor on their tongue to identify it! Redmond Trophy Rock's naturally balanced macro and micro trace minerals include sodium, calcium and phosphorous. It's a biological fact that the mineral ratios found in Redmond Trophy Rock are identical to the ratios found in healthy deer blood. We recommend providing your deer a mineral feast rather than only a handful of minerals.
KEY INGREDIENTS
Unrefined Mineral Salt
GUARANTEED ANALYSIS
| | Min | Max |
| --- | --- | --- |
| Calcium | 0.35 | 0.85 |
| Phosphorous % | 0.0002 | |
| Salt % | 91.0 | 96.0 |
| Magnesium % | 0.06 | |
| Potassium % | 0.03 | |
| Sulphur % | 0.07 | |
| Sodium % | 34.0 | 39.0 |
| Zinc ppm | 1 | |
| Iron ppm | 300 | |
| Copper ppm | 3 | |
| Manganese ppm | 5 | |
| Iodine ppm | 10 | |
Why Trophy Rock is different
Trophy Rock is not manufactured, it's mined. Redmond's minerals are harvested from the crystallized remains of a Jurassic sea that's been protected for thousands of years by a volcanic bentonite clay cap. This incredible deposit located in Utah, USA is geologically unique and serves as the foundation for all of our deer mineral supplements.
Redmond's minerals contain a few different salts. However, one glance at the natural color variation of a Trophy Rock mined from this rich deposit shows there's so much more packed in our rocks—60+ minerals to be exact!