Supplement for Deer Health
Four65 is a granular form of our best-selling Trophy Rock deer attractant! It contains the same all natural trace minerals deer need for optimal antler growth and health. Use it to successfully attract, inventory, and scout your herd. With Four65, you provide deer the essential minerals they need and grow healthier herds and bigger bucks.
TROPHY ROCK CRUSHED
Four65 is the same trusted Redmond Trophy Rock product, just in crushed form. Pour it on the ground to create a nutrient-dense mineral lick deer can't resist.
ALL NATURAL TRACE MINERALS:
Without sufficient minerals, deer can't reach their full growth potential. Four65 delivers 60+ balanced minerals their bodies need. It's a quality supplement you can feel good about giving your herd.
POWERFUL DEER ATTRACTANT:
Four65 is a natural deer magnet! They love it and will return to it again and again, giving you the satisfaction of watching them grow.
TRAIL CAM COMPANION:
Four65 is the perfect tool to help you scout and track deer. Spread it near your trail camera to attract deer and capture incredible photos of bucks and other wildlife.
MINED IN USA:
If locally sourced is important to you, Four65 is a great choice. It's mined in Utah, USA, and your purchase supports small-town jobs and the American economy.
How to use
After selecting a mineral site for free-choice feeding, clear debris and pour 1-2 bags of Four65 on the soil or dig a hole (one foot deep) and fill it with Four65. After heavy rains, you will not see the product, but it will still be in the soil. Refresh the supply every season and do not move it. Mineral sites get better with time.
We recommend 1 mineral site per 80 acres and 4 bags of Four65 per mineral site per year.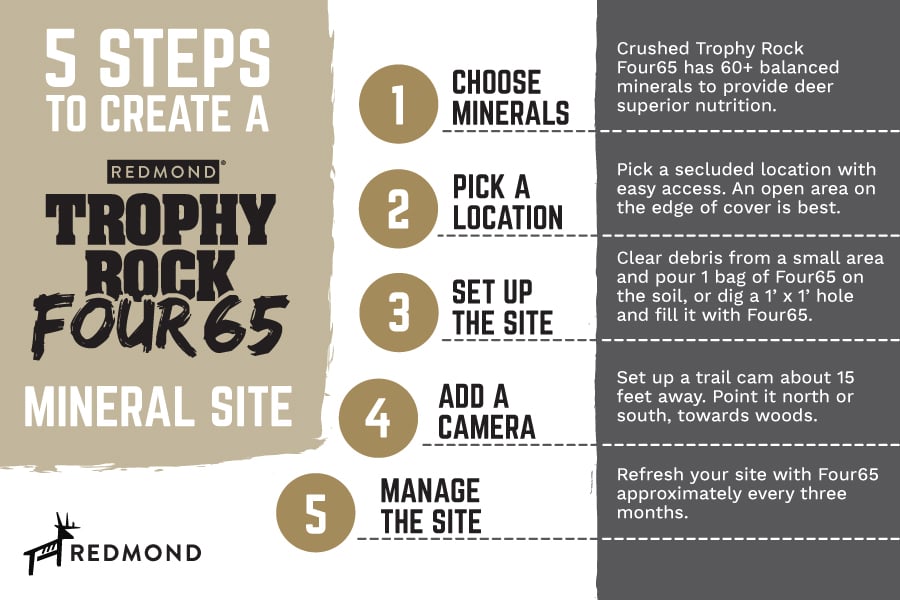 WHAT IS FOUR65 AND HOW IS IT DIFFERENT FROM TROPHY ROCK?
Four65 is crushed up Trophy Rock with the same beneficial minerals needed for optimal deer health. Four65 ranges in size from small marble chunks to a fine granular size. Four65 comes in a 30-pound bag. Using Four65 in areas that have heavy populations of pigs, bear, and cattle can help keep your mineral site in its intended location. Four65 is a great product to pour into existing mineral sites, giving deer a higher mineral consumption rate as they dig and eat the soil.
WHAT HAPPENED TO MY FOUR65? IT RAINED AND NOW IT'S GONE.
That's what our crushed minerals are made to do! Four65 incorporates into the soil with rain or snow and becomes a mineral lick. Though the product may not be visible on the ground, deer will still lick and dig in the soil to get the benefit of the minerals.
Key ingredients
Unrefined Mineral Salt
GUARANTEED ANALYSIS
| | Min | Max |
| --- | --- | --- |
| Calcium | 0.35 | 0.85 |
| Phosphorous % | 0.0002 | |
| Salt % | 91.0 | 96.0 |
| Magnesium % | 0.06 | 0.65% |
| Potassium % | 0.03 | |
| Sulphur % | 0.07 | |
| Sodium % | 34.0 | 39.0 |
| Zinc ppm | 1 | |
| Iron ppm | 300 | |
| Copper ppm | 3 | |
| Manganese ppm | 5 | |
| Iodine ppm | 10 | |
mined not manufactured
Four65 is not manufactured, it's mined. Redmond's minerals are harvested from the crystallized remains of a Jurassic Period sea that's been protected for thousands of years by a volcanic bentonite clay cap. This incredible deposit located in Utah, USA is geologically unique and serves as the foundation for our deer mineral supplements.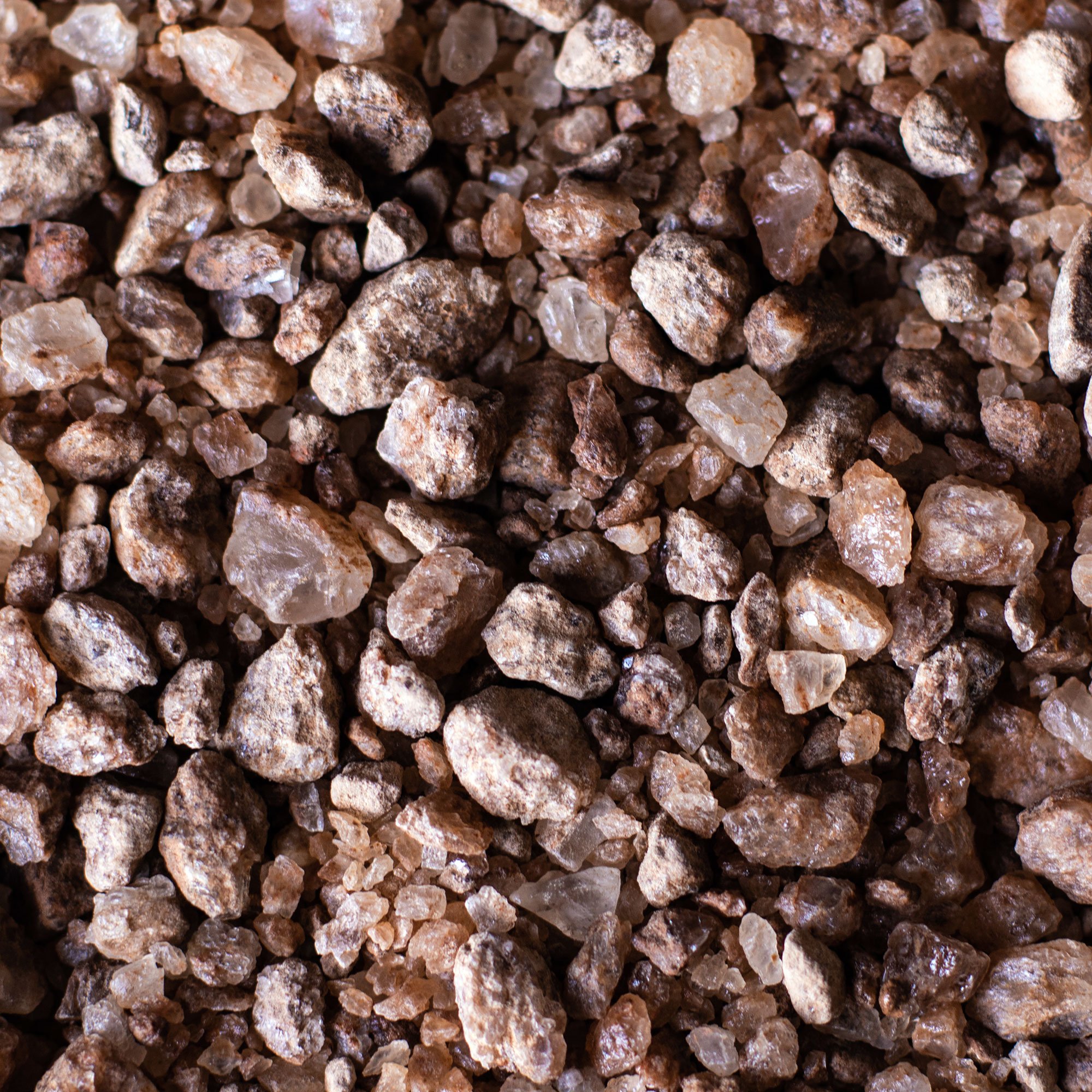 Redmond's minerals contain a few different salts. However, one glance at the natural color variation of Four65 mined from this rich deposit shows there's so much more packed in our rocks—60+ minerals to be exact!
WHAT DOES 60+ MINERALS MEAN?